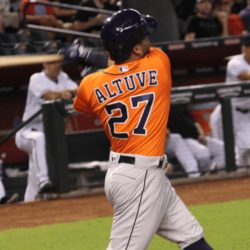 The Houston Astros will advance to their fifth consecutive American League Championship Series, after defeating the Chicago White Sox 10-1 in Game 4 on Tuesday of their best-of-five division series matchup. Astros starter Lance McCullers Jr. gave up just one solo home run to designated hitter Gavin Sheets in the second inning. McCullers pitched only four innings, allowing five hits and three walks; the Astros bullpen was perfect over the final five innings.
The Astros are the third team ever to appear in five straight league championship series, and first to do so since the Atlanta Braves reached eight straight from 1991-1999. It'll be Houston's second ALCS under 72-year-old manager Dusty Baker. Baker replaced A.J. Hinch, who was fired in fallout from the Astros' 2017 sign-stealing scandal.
Game 1 of the ALCS against the Boston Red Sox will be held on Friday in Houston. The Red Sox eliminated Tampa Bay with a 6-5 victory in Game 4 on Monday night.
Editorial credit: Keeton Gale / Shutterstock.com