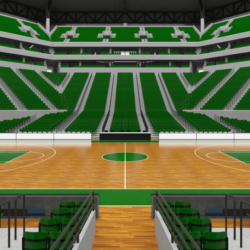 The Boston Celtics' Jayson Tatum dropped a season-high 54 points, shooting 16-of-30 from the field to lead the team to a 126-120 win over the Brooklyn Nets. Tatum tied Hall of Famer and Boston legend Larry Bird for the most 50-point games in Celtics history with four.
The 24-year-old Tatum also earned his fourth 50-point game in eight fewer years than Bird, who accomplished the feat when he was 32 years old. The three-time All-Star chipped in eight threes, shot 14-of-17 from the free-throw line and grabbed five boards.
Kevin Durant led the Nets with 37 points, eight assists and six rebounds in 39 minutes of action in his second game back from a left knee injury. Despite the loss, Durant reached the 25,000-point club.
Boston (39-27) maintains the fifth spot in the Eastern Conference; Brooklyn (32-33) is currently tied for eighth with the Charlotte Hornets.
Editorial credit: Danilo_Vuletic / Shutterstock.com