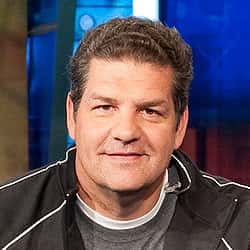 Mike Golic, half of ESPN Radio's weekday morning Mike & Mike, plays the role of ex-jock, former NFLer to Mike Greenberg. The show (6 – 10 a.m. ET), simulcast on TV since 2004, is available on ESPN Radio and ESPN affiliates across the country.
"Golic," as he is referred to, joined ESPN in 1995 as an NFL studio analyst on NFL 2Night and later on NFL Live and also worked as color commentator for the Arena Football League (1996-98, 2007-08) and ESPN/ABC college football games until the mid-nineties.
Golic is a nine-year NFL veteran, playing defensive tackle for the Houston Oilers, Philadelphia Eagles and Miami Dolphins. During his seven years in Philadelphia, he began his television career with a weekly segment on the Randall Cunningham Show. He received a Mid-Atlantic Region Emmy Award for his feature "Golic's Got It."
Golic and Greenberg have parlayed their winning formula to team on a variety of ESPN TV and radio programs:
Co-host with Greenberg, Mike & Mike's Best of the NFL on ESPN (Tuesdays at 3:30 p.m.)
Announced and played in Legends Game at Yankees Stadium in 2008 and St. Louis in 2009
Appeared as "guest conductors" at Wrigley Field, leading Cubs fans in singing "Take Me Out to the Ball Game" multiple times
Appeared in two motion pictures with Greenberg, Valentine's Day and Just Wright
Served as guest emcee at White House Tee Ball game on the South Lawn and attended official White House dinner in July 2008
Received Sports Emmy in new-media category — Achievement in Content for Non-Traditional Delivery
In April 2010, Golic, along with Greenberg, released Mike & Mike's Rules for Sports and Life which reached number 3 on the N.Y. Times Best Sellers List.
Golic has also been part of ESPN Radio major feats: along with co-host Greenberg they staged the network's largest-ever promotion – "Mike & Mike's Marriage Madness" — in which 500 couples applied for the chance to be married on the show.
In December 2005, the Mikes were featured in ESPN Radio's first national, broadcast promos.
Born December 12, 1962, Golic is a 1985 graduate of the University of Notre Dame where he served as captain of the football team during his senior season and wrestled. Golic is married with three children.