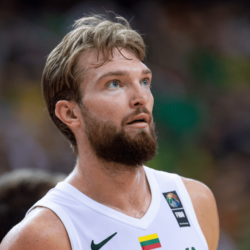 The NBA announced on Wednesday it has issued a one-game suspension on Sacramento Kings center Domantas Sabonis for "aggressively confronting and making contact with a game official."  The suspension is without pay.
The incident occurred with 4:35 remaining in the Kings' 131-115 loss to the New York Knicks on Monday at Golden 1 Center in Sacramento. Knicks guard Immanuel Quickley drove toward the basket, when a nearby official whistled Sabonis for a foul as Quickley threw up a shot and fell to the floor. Sabonis then approached the official and pushed him with his body. He was given a technical foul and ejected for his actions.
NBA president of league operations Byron Spruell said in a news release, saying:  "The incident began with Sabonis receiving a technical foul for an unsportsmanlike reaction to a called foul. Sabonis then reacted demonstratively again in the vicinity of the game official, and approached and bumped the official in a hostile manner, resulting in a second technical foul and an ejection."
Sabonis, 25, joined the team in a February trade from the Indiana Pacers; he was an All-Star in 2019 and 2020 with the Pacers, and entered the league as the No. 11 overall pick in the 2016 NBA Draft. The 6-foot-11 forward/center  is averaging 17.4 points, 12.8 rebounds and 5.9 assists per game through 25 appearances this season with the Kings.  He is signed with the Kings through 2023-24.
Editorial credit: sportoakimirka / Shutterstock.com