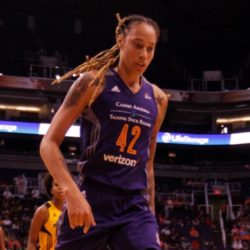 On Thursday, WNBA star Brittney Griner pleaded guilty in Russia to drug possession and smuggling charges, telling a Moscow court she brought marijuana into the country by accident. Griner was arrested at a Moscow airport in February after Russian officials claimed she had cannabis oil in her luggage.
Griner said in court: "I would like to plead guilty on the charges against me, but I had no intention on breaking any Russian law. I was in a rush packing and the cartridges accidentally ended up in my bags." Griner's plea could bring the verdict in her case closer, which would then allow her defense team and U.S. officials to try and secure her release.
Griner's Russian legal team said the guilty plea was "her decision informed by discussion with her legal defense team. Brittney sets an example of being brave. She decided to take full responsibility for her actions as she knows that she is a role model for many people. Considering the nature of her case, the insignificant amount of the substance and BG's personality and history of positive contributions to global and Russian sport, the defense hopes that the plea will be considered by the court as a mitigating factor and there will be no severe sentence."
Griner is expected to give her testimony at a later date; the session adjourned until July 14. If convicted on drug smuggling charges, Griner could face 10 years in a Russian prison.
Editorial credit: Keeton Gale / Shutterstock.com