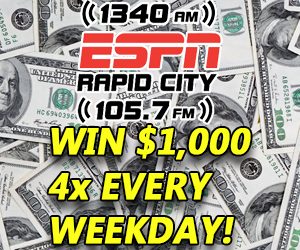 ESPN Rapid City wants to hook you up with an extra $1,000! What would you do with a thousand dollars? Fill a bathtub full of beer and take a soak? Take a vacation? Whatever you decide to do with it, ESPN Rapid City will hook you up with the 4k A Day Workday Payday, where you can win $1,000 four times–every weekday.
Here's what you need to know to win with the Workday Payday: Starting Monday, March 19th, we'll give you a secret cash keyword–four times each weekday (8am, 11am, 2pm, & 5pm).  When you hear it, text the code word to 67760. If you win, you'll receive a phone call letting you know!
Must be 18 years or older to play. This is a nationwide, multi-station contest and one winner will be chosen each time we play.
Good luck from ESPN Rapid City!